House Sitting Heaven in the South of France
How would you like to stay in a beautiful home in the South of France for 3 weeks for free?! Lounge by a pool with a view? Is this possible? Yes, it is, through house sitting!
House sitting jobs exist all over the world, and there are several websites on line dedicated to helping homeowners and house sitters find each other. It's a win/win situation, as it gives homeowners on holiday peace of mind that their home and beloved pets are being taken care of, and they save enormous amounts of money not paying for boarding their pets. For the house sitter, you can enjoy lovely accommodations for free.
Nothing in life is free, you may say. And in a way, it's true – being a house sitter often involves some unpaid work, especially when there are pets involved, which is usually the case. So ask yourself this – would you be willing to work about 4 hours a day, 7 days a week for no pay? If the answer is no, house sitting might not be for you. And the hours worked can climb up to 14, depending on the pets involved. Sometimes the homeowners give tips, or take you out for dinner before and after the sit, sometimes not, so that's an unexpected bonus, not something to count on.
At my first official house sit, through the website Trusted Housesitters, I averaged about 4 hours a day working for the home owners, between 2 separate hour or more long dog walks, feeding and grooming the dogs, Poppy and Archie, and a pet tortoise named Hector, as well as watering the gardens, cleaning the pool, bringing in mail, taking out trash, and house cleaning – not difficult work, and things you would most likely be doing at home, but not everyone wants to do them while they're on vacation. For me, this is  more a temporary lifestyle than a holiday.
Also, depending on how many and what types of animals, and whether or not you want the expense of renting a car, or how remote a location you're in, you're somewhat housebound. I was allowed to leave the dogs for up to 2 to 3 hours a day, but that's not much time for sightseeing, especially without a car. But currently, it was perfect for me, as I'd been globetrotting all over the world for 7 months, and having 3 weeks of peace and quiet in a tiny village, bound to a house with a gorgeous view and swimming pool, was just what I needed. It gave me time to catch up on my blog posts, social media, and put together book proposals, as I had great wifi, and the dogs were keeping me fit.
You can house sit solo or as a couple. I've seen a few that accept families, but it's somewhat rare. If you are house sitting solo, especially in the more remote locations, and in countries where you don't speak the language, you have to be okay with a lot of alone time, which fortunately I am. (I did talk to the dogs, and they were "English-speaking," as their owners, while they live in France, are from the UK). House sitting is ideal for couples, as you can split the chores and have each other for company.
So here is a sneak peak at my dream house sit…
I had lots of places to use as my "office"…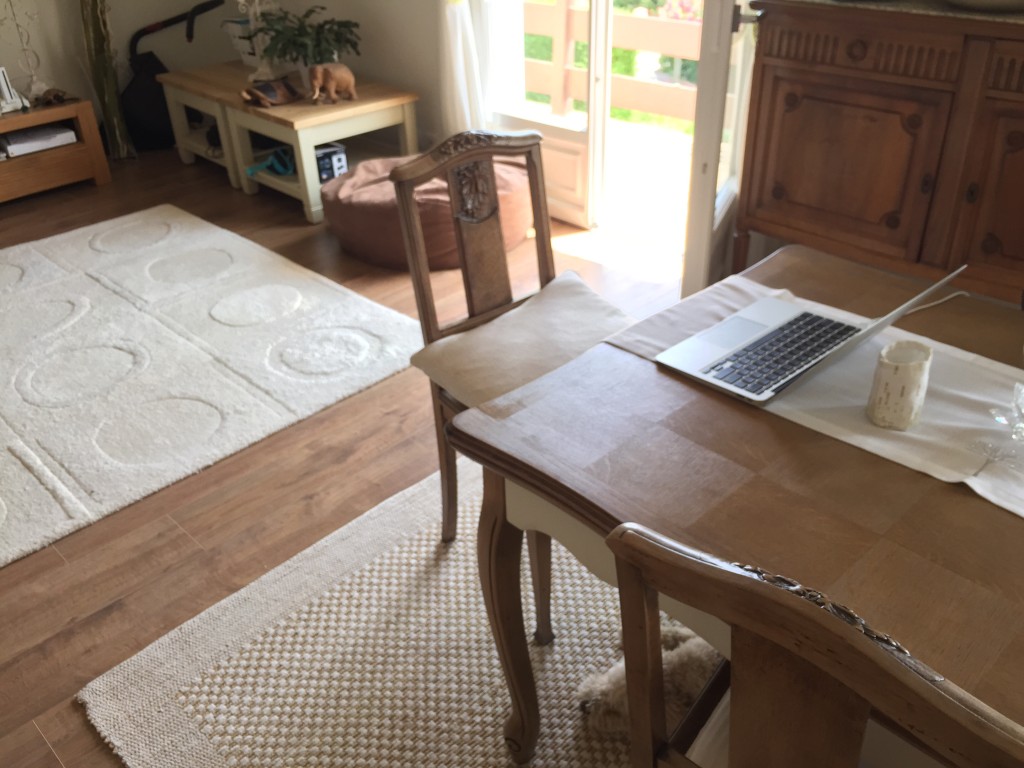 …a nice kitchen to cook my meals in…
…and a gorgeous pool to hang out by and read.
I had many things to enjoy that I hadn't had much while traveling, like a queen-sized bed…
…and a washing machine so I didn't have to hand wash my clothes every night in a sink. It's funny, it's the little things you miss when you travel long-term.
And the village is smack in the middle of miles of stunning sunflower fields!!
I did have to order a bus on line, in French (and I don't speak French!) to go to the supermarket, as the village is so small there is no grocery store. So in order to buy food, it takes about 3 hours and I had to plan ahead. But it was a small price to pay for this experience.
I currently have no mortgage payment or rent, no utilities payment, no car payment or auto insurance, no phone bill, and no storage fees for things I don't need and now no longer have. Yet I stayed in a beautiful home in the south of France with a view and a swimming pool, and my only expense was food, which I bought at the market and cooked at my temporary home.
I did opt to buy a year-long traveler's insurance policy before I left on this journey, for $1100, but if I was in the US, health insurance for me was being shown as $900 a month, so traveling was quite a savings!
Yes, it's a temporary home, although I hope to do more house sitting. I still miss having my own home sometimes, my own bed and pillow, but when I see things that need repair, like a freezer door that won't stay shut, or peeling paint, I'm glad I don't have to worry about fixing them or paying to have them fixed. And it's a way to see the world, and have time to do my creative work.
One word of caution – I applied to many house sitting jobs before landing one. Apparently, there are a lot of prospective house sitters out there, and I've been told some get hundreds of applications for a single, non-paying job. But persistence paid off, and it's one "job" where my age has worked in my favor. I'm hoping that after this one, with an "official" house sit under my belt and a great recommendation, it will get easier. It's definitely a different lifestyle, one that I'm willing and able to explore right now, and maybe you should explore it too!
Next post – a day in my life as a house/pet sitter in the South of France.